3 ways district cross-collaboration can support teachers
October 5, 2018 | by Maeve Murray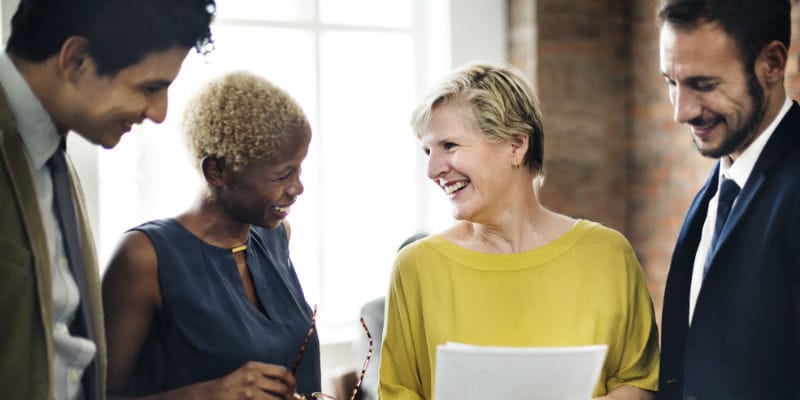 Generally in education, we've found that initiatives and solutions can be siloed within one specific district. In a place the size of Rhode Island, it may surprise you that there are 66 individual local education agencies (LEAs), including traditional public districts and charter networks. It's not uncommon for neighbors to confront the same challenges, with each still operating in a communications vacuum. One Fellowship aims to break down these silos, encouraging discussion, resource sharing, and deep collaboration between LEAs.
Undeterred by humid weather or exhaustion from the back-to-school season, 49 educators from the country's smallest state convened in September for the kickoff of 10 monthly meetings this school year. These individuals were eager to be in one room together for the first time as members of Cohorts 4 and 5 of the Fuse RI Fellowship. Launched in 2014, Highlander Institute's Fuse RI program matches educators from different districts as partners and coaches to share, measure, and scale the implementation of blended and personalized learning. These educators, called Fuse Fellows, are passionate, curious innovators in their schools who strive to take their practice to the next level. They are natural change agents and welcome the opportunity to advance the field through their own leadership and instructional strategies.
The program's core: Intentional cross-collaboration
There are two integral components of our Fuse model. First, we believe in the power of a cohort of educators who have dedicated time and space to meet. Second is the intentional cross-collaboration built into our program design. The educators we recruit join a team of fellows from different LEAs, and are then partnered with a district where none of the team members work on a daily basis.
When we brought on our first cohort of fellows and district partners four years ago, this cross-collaborative component resulted in serious pushback. Understandably, the districts and charter schools we onboarded were invested in the growth of their own educators and advocated for the chance to be partnered with a "homegrown" fellow that already worked for them. However, our founding Fuse team held firm.
Years later, we've heard from several partners how important it was to have the fresh perspective of their fellows coming from outside district lines. These visiting fellows have the benefit of a blank slate, unencumbered by the knowledge cloud of constraints, resources, personalities, and the mindset of "this is how it's always been done here."


These visiting fellows have the benefit of a blank slate, unencumbered by the knowledge cloud of constraints, resources, personalities, and the mindset of "this is how it's always been done here."
Over the years, we've observed that the power of cross-collaboration in our Fuse model makes an impact in three important ways.
Capacity
Exposure to a cohort of educators from a variety of districts allows educators to develop new skills and perspectives, as well as receive recognition from both peers and leaders. One of our Cohort 3 fellows utilized her new relationships with her team as she created and executed a professional development series at her high school. She invited her partner fellows to present and lead sessions after school, tapping their classroom expertise and making connections with colleagues. As a result, she continued to build her coaching skill set and strengthened the credibility she had in her own district.
Upon graduation from the program, fellows hold a unique value in their own schools and administrators, with an enhanced ability to continue moving the work forward. Several districts have created entirely new positions or flexible job responsibilities for fellows to adequately leverage them as change agents. With a background of classroom experience and participation in leadership conversations, fellows are specially positioned as empathetic liaisons between teachers, building leaders, and district administrators.
Innovation
True to its name, Fuse has frequently been the catalyst that sparks a grassroots movement in partner districts. The majority of Fuse fellows are teachers who do not necessarily want to leave the classroom, but are hungry for more unconventional leadership opportunities. Fellows are willing to pilot new things, give feedback, and crowdsource potential solutions; therefore they're an in-demand group when it comes to new programs and possibilities.
For many fellows, Fuse is an entry point into further cross-collaborative projects. Many current members and alumni have participated in our statewide education innovation cluster; ventured into the field of education policy; and competed in an educator prep design challenge hosted by the state department of education. In one example, some fellows and district partners from Fuse RI helped lead the development of a cross-district working group focused on developing a database of open education resources (OER) that take Rhode Island's strengths and needs into account. Hopefully, the breaking down of district lines in these cases means that solutions and resources produced will be scalable, faster.
Equity
In practice, cross-collaboration in Fuse can be eye-opening. Back in fall 2017, our Cohort 4 fellows led site visits to Rhode Island schools, bringing their brand new coaching cohorts to see personalized learning practices in action. In one instance, a team of three Fuse Fellows and their partner district teachers visited middle schools in two different towns — a single school day that effectively brought together representatives from six districts.
One of these fellows, a middle school teacher in Providence, was blown away not only by the practices she observed, but by the design of the school buildings and resources the students and teachers could access. This experience inspired her to think even more critically about how to facilitate conversations with her students about equity, and she is considering how best to bring together students in similar cross-collaborative ways in our state. Her story underlines the importance of our intentional partnerships; we have a tremendous amount of diversity between our urban, suburban, and urban ring districts, and we need to thoughtfully consider where fellows will have the most impact, either by shifting their own mindsets and/or pushing their partners' thinking.
We are consistently humbled by the problem-solving acumen, self-reflection, and boundless energy our fellows bring to the program and to the greater goal of improving educational experiences for our students. We look forward to new ways we can bring all interested partners to the conversation. We encourage you to reinvest in teacher leadership and consider how intentional cross-collaboration can be a lever for change in your context.
Maeve Murray is the program manager of the FUSE RI Fellowship at the Highlander Institute. You can follow her team's work via Twitter @maevefmurray and @highlanderinst.
If your district is doing cross-collaboration to scale blended learning, tell us about it in a BLU district profile! Likewise, if you practice blended and personalized learning in your classroom or school, become part of a community of research and practice by adding a BLU profile.