BLU school profiles—what works and why
February 12, 2016 | by Clifford Maxwell
Last week, we re-launched the Blended Learning Universe (BLU) school directory to provide school leaders with a platform on which to showcase how their schools are implementing blended learning. We hope this tool will create a connectivity hub to help drive collaboration and innovation in schools across the globe. Since relaunching the site, more than 50 schools have already submitted new profiles. This flurry of activity speaks volumes about the energy in the education space around blended learning and educators' desires to collaborate with each other in order to improve improve student outcomes.
To help school leaders make the best use of the site, here are some helpful tips for creating a high quality school profile. Profiles can't replace a visit or a conversation, but they can provide a snapshot of what blended learning looks like inside a school and can address frequently asked questions about how the school's blended program came about.
To that end, the more detail a school can provide in its profile the better. KIPP Comienza Community Prep, a charter school in Huntington Park, Calif., provides a great example. Below are some screenshots demonstrating how the school described the student experience and the core challenge that guided its blended implementation:
The degree of detail in the model description is crucial: the model could have been simply described as "a three station rotation model," leaving visitors with too many unknowns. By providing a clear description of each rotation, as well as rotation timing, technology use, and testing and practice mechanisms, KIPP Comienza gives visitors a clear image of what its student experience looks like during math and ELA blocks.
After reading this description, visitors may still be left with other questions about KIPP Comienza's design decisions, such as "Why do K–2 students stay in the classroom during rotations, whereas 3rd and 4th graders move between various classrooms?" or "Why did this school choose to implement a Station Rotation model in the first place?"
To get at questions like these, we've included an Implementation Q&A section in each profile to provide further opportunity to describe the process of going blended. KIPP Comienza leveraged this section to describe why it made particular design decisions. Take a look: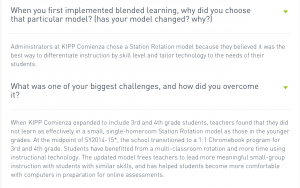 By providing detailed answers like these, KIPP Comienza illustrates the particular background conditions guiding its decision to go blended. First, note that the school chose to implement the Station Rotation model in order to differentiate instruction by skill level, which allowed teachers to tailor technology to the needs of their students and improve small-group instruction. This indicates that KIPP Comienza has identified a clear problem that needs to be solved–optimizing small group instruction– and the school is using blended learning to solve that problem. Our research suggests that the most successful blended learning implementations set out to solve a specific and measurable problem. The better a school can describe the problem that it was trying to solve, the better other schools tackling similar challenges can identify and collaborate with that school on the site.
Secondly, the school candidly describes how its model evolved in the face of challenges: After discovering that 3rd and 4th graders were struggling with rotations in a single classroom, the school changed the model by combining the grade levels in order to instruct students at similar skill levels—another nod to the core reason KIPP Comienza chose the Station Rotation model— to give teachers more time for small-group instruction, and to help the students be more comfortable with technology come assessment time. This likewise reflects our research on successful blended learning implementations: often schools will implement one model and then tweak that model over time based on what's working and what's not. An effective profile gives visitors a sense of this evolution and rationale that guided a school's design changes over time.
Of course, even KIPP Comienza's robust profile lends us just a glimpse into what happens each day in its classrooms. Other practitioners visiting the profile might have lingering questions about the model or design decisions. But the profile provides a strong starting point from which other school leaders can borrow design principles and identify schools which they may want to reach out to in order to learn more.
For school leaders interested in joining the BLU and becoming part of a growing network of blended learning schools worldwide, simply click "Join" at the top right of this screen. As you begin to build out your profile, remember that clear, detailed descriptions of the model type, the student experience, design choices and challenges addressed will go a long way in helping interested visitors understand your blended learning journey and driving communication and collaboration moving forward.
Comments are closed.