Calling all researchers: BLU school data now open to the public
April 15, 2016 | by Clifford Maxwell
The BLU was launched with educators in mind—for the purpose of helping school leaders and teachers understand what blended learning is, what schools are using it, and how the field is evolving. In addition, we aimed to help researchers leverage the largest database of blended-learning programs to understand blended-learning trends and provide careful analysis of how schools manage innovation over time. We are excited to announce the release of BLU data to the public.
Here are step-by-step instructions on how to use the BLU data feature to download a custom data file of the schools you're interested in learning more about:
1. From the BLU directory homepage, start by performing any search function. For example, if you want to examine more closely all schools implementing the Flipped Classroom model, then select "Flipped Classroom" from the Blended Model drop-down menu and click "Show Me Schools."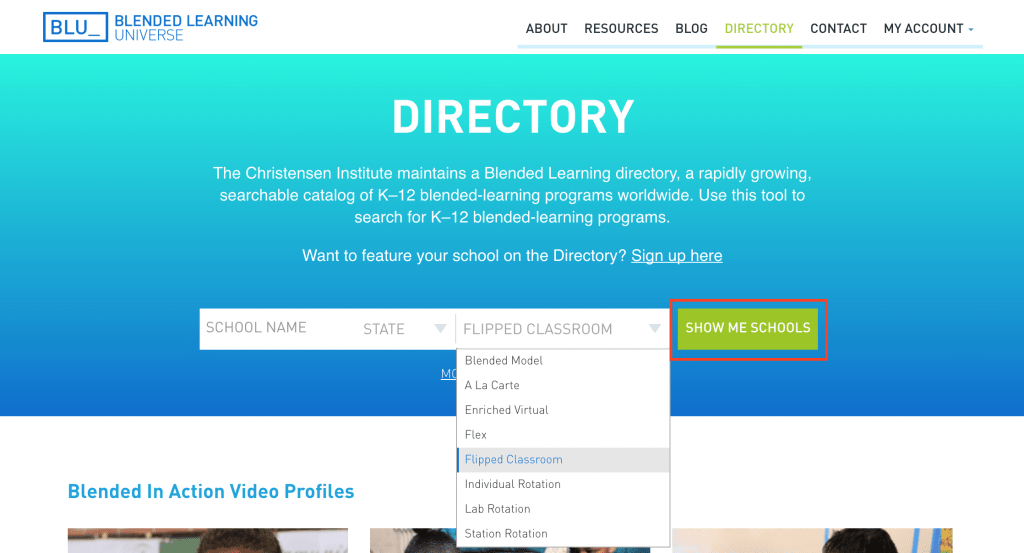 2. Once you've received your search results, look to the right of "All Search Options," at the top right of the page, and click "Download CSV."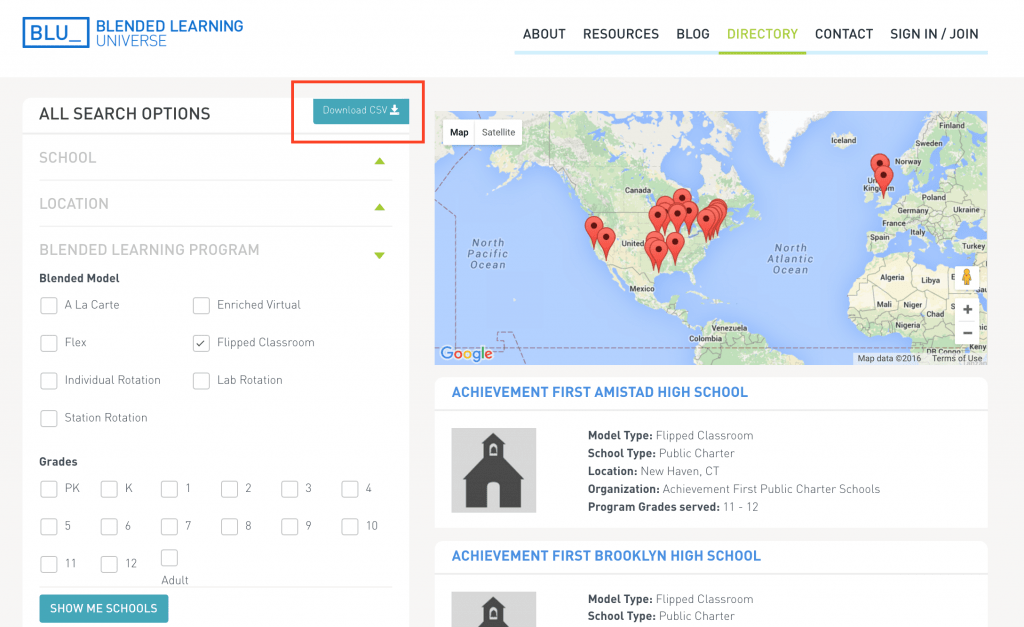 3. You should now have a downloaded CSV file that can be imported to statistical software for further analysis, along with a PDF file explaining each variable as it exists in the BLU database.
You aren't limited to a single search parameter either. For example, if you're only interested in looking at data on how urban schools are using Khan Academy in a Flipped Classroom model, then, in the All Search Options menu, check "Flipped Classroom" and "Urban," type "Khan Academy" in the EdTech Products search field, and click "Show Me Schools." You can then follow the directions above to download a CSV file containing data on all the schools matching your search parameters.
As blended learning continues to evolve and as educators need increasingly tailored guidance on how best to implement blended learning in their specific circumstances, we hope this feature will enable further discovery on the pathway to scaling blended learning to meet the needs of every student.