9 steps to creating and managing successful blended classrooms
July 2, 2019 | by Jenny White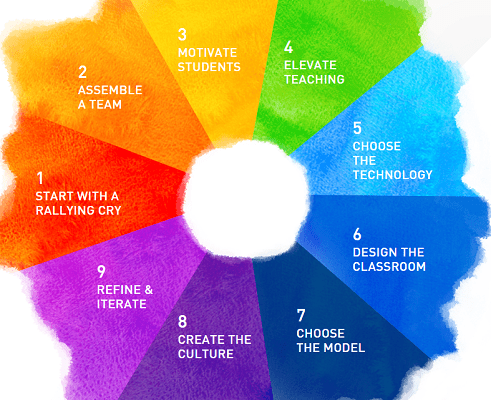 "Going blended" is about more than just technology—it's about rethinking instruction and effectively managing innovation over time. While that can seem daunting, the Christensen Institute's Blended Learning Universe (BLU) has a research-driven design guide to support educators as they build (and refine) their blended-learning programs.
This guide can be adopted by teachers striving to implement blended solo, or by teams at the district- or school-level collaborating to launch a blended-learning effort across many classrooms. We highly recommend using this tool collaboratively in a professional development setting (such as within a teaching department, or a school-wide team), as growing consensus and purpose amongst practitioners and stakeholders will not only help any new program get off the ground successfully but also give team members a degree of ownership of the program.
The BLU's playlist on the Learning Commons called "Build Your Own Blended Program or Classroom" includes the nine key steps of the blended design guide, and allows you to track progress through the process. Within each step are tips and considerations as well as hands-on worksheets and videos to help you and your team thoughtfully create a productive experience for students and teachers alike.
The first step, for example, prompts educators to ground their program on a specific goal. Are you aiming to boost student achievement through personalization? Provide access to previously out-of-reach courses and opportunities? Improve your school system's financial health? Innovation for the sake of innovation rarely begets real progress, so zero in on your purpose on the front end.
Since the playlist lives on the Learning Commons, it's shareable and customizable. As educators engage with the design process, they can add new resources from the Learning Commons or other websites to the playlist as well as share with peers. For example, much of the content from Ready to Blend and Community Resources would be valuable to check out and pull in alongside this playlist. In alignment with the ethos of this professional development site, the BLU design guide exists to help make sure no educator should have to recreate the wheel when starting a blended- and personalized-learning approach. The more our field can be transparent about what works and what doesn't in school innovation and collaboratively improve practice, the more successful schools—and their future graduates—will be.
Here's a peek at the blended design steps:
Start with a rallying cry: Be intentional. Identify the problem to solve or goal to achieve.
Assemble the right team: Invite new voices. Having the right people at the design table is critical to success.
Motivate students: Want blended learning to be student-centered? Anchor your efforts in the goals students are trying to accomplish.
Elevate teaching: It's time to let teachers shine. Teachers remain at the heart of any successful blended program.
Choose the technology: It's a saturated edtech market, so approach it with a clear strategy to make an effective selection.
Design the classroom: Rethink your learning space to enhance the student experience.
Choose the model: Align your model with your earlier design decisions.
Create the culture: When done right, blended learning can help support a strong, positive culture.
Refine and iterate: Building out a blended-learning program is a process, not an event!
Dive in and drive forward your blended program with the complete playlist. Want to see what other educators are up to first? Find examples of blended program designs in the BLU directory.
Have thoughts about the blended-learning design process, or want to share advice from your own experience? Reach out to Jenny White and the BLU team at [email protected].
This post originally published on The Learning Commons.