Is the Enriched Virtual blended-learning model the future of high school?
June 27, 2019 | by Jenny White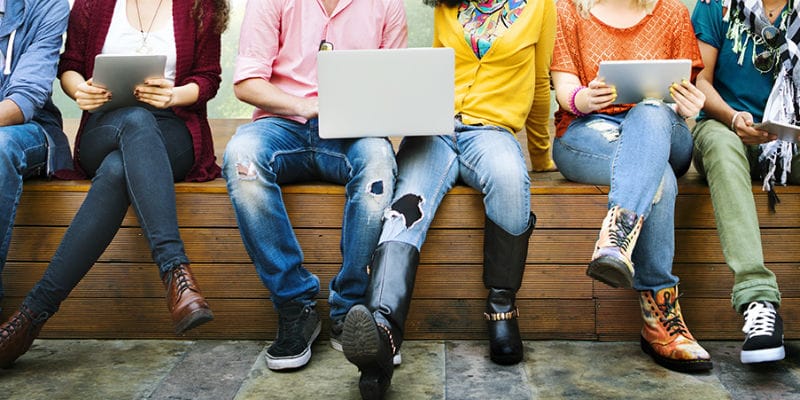 Many in the education innovation space are thinking about high school redesign to better reflect students' 21st century learning needs. Initiatives like the XQ Super School project and the Department of Education's Next Generation High Schools have accelerated a national conversation on reimagining the high school experience to include "real-world" learning components as well as skill- and passion-building opportunities like internships, project-based learning, robust computer science curriculum, and competency-based learning systems. Of course, these kinds of experiences in support of deeper learning don't mesh well with the architecture of the traditional school day. Indeed, to integrate these non-conventional practices in schools at scale, huge logistical shifts in where, when, how, and along which path a student learns become paramount.
A bell schedule, age-based cohorts, one-teacher one-student classrooms—these long-held hallmarks of the traditional school day are becoming increasingly obsolete. As new high school designs herald flexible, student-centered learning and even off-campus experiences, students no longer attend school every day. Take for example two fictional high school students, Jorge and Bea. It doesn't make sense to mandate that  12th-grader Jorge report to campus on Wednesdays if he needs to pick up an extra shift at his job; his learning happens online and he's earning credits at his own pace through his high school's mastery-based learning system. Nor does it make sense for 10th-grader Bea to attend school on Tuesdays and Thursdays, since she's earning academic credits through her internship at a local hospital, arranged via her school's work-based learning program. 
These examples, though fictional, are becoming more and more representative of the modern K-12 student experience, thanks to the increasing complexity of students' lives and the dynamic opportunities educators recognize are critical to provide students for better learning outcomes and better ties to the workforce. Many of these opportunities are made possible through blended learning. In looking to the future, the Christensen Institute foresees that not only will blended-learning opportunities continue to scale in schools, but also that there will be an inevitable rise of the Enriched Virtual blended-learning model at the high school level. 
One model's disruptive potential to shape the future of high school
The Enriched Virtual model, by definition, is rather straightforward: the backbone of student learning is online and the student is only required to attend brick-and-mortar school on designated days. Thanks to technology, learning is happening anywhere, anytime, and (sometimes) at varying pace. The required face-to-face time within this model typically serves two main purposes: 1) enrich students' learning experiences with group-based work or teacher-led instruction, for example, and 2) hold students accountable via regular in-person check-ins with their teachers and advisor(s). This model isn't flashy; it's quite operational in nature. In the Christensen Institute's research, early adoption of this model emerged among fully virtual schools that shifted to blended learning to provide stronger supports for students who otherwise struggle to stay on track. 
It's worth noting, however, that this blended model is considered disruptive: it provides learning opportunities not governed by seat time like traditional instructional models, but instead determined by the degree to which students control time, path, pace, and in some cases, place of their learning.
Today, this model is still fairly niche among traditionally brick-and-mortar public schools; few schools tout their "Enriched Virtual" model at conferences or in articles. But when you take a look at schools leveraging this model, their Enriched Virtual practice is pretty exciting in that it has the potential to benefit an increasing number of today's students: without Enriched Virtual's disruptive blended-learning structure, scheduling flexibility, off-campus learning experiences, opportunities to explore emerging passions, and more, wouldn't be feasible for schools to provide.
Schools like XQ winner Da Vinci RISE High in southern California and the year-old Map Academy in eastern Massachusetts are examples of schools that are redefining high school using the Enriched Virtual model. These two schools leverage the model to change how students and teachers use time and space to create dynamic learning experiences. Of course, disrupting traditional high school was possible in these cases, in many ways, because of their charter autonomy. However, that doesn't mean Enriched Virtual isn't within the realm of possibility for public district schools. Like most disruptive innovations, this model is emerging on the periphery of core consumers (in this case, traditional students in core subject areas) but has the potential to become more mainstream. For instance, we're seeing Enriched Virtual play out at a smaller scale in some public schools like Twinfield Union School in northern Vermont in conjunction with its internship program, and in North Carolina's Hickory Ridge High School where it offers a flexible learning option. 
The effectiveness of schools' Enriched Virtual models will come down to creating a cohesive learning experience for students. Are the online, offline, and off-campus learning connected and mutually reinforcing? Are students staying on track to earn core academic credits and demonstrating authentic mastery of learning to their teachers, mentors, and peers? Is the required face-to-face time used to intentionally engage students, helping them grow both academic and social-emotional skills? If early adopters of this model demonstrate gains in not just transforming the concept of high school but showing strong performance in supporting all students to succeed, there's no doubt that the Enriched Virtual blended-learning model will continue to shape the future of high school.
Check out examples of real schools using the Enriched Virtual model in the

BLU Directory

.

Get advice from educators using this model in the blog post "Tips from the Pros".

Are you practicing this model? Write to us at

[email protected]

—

we'd love to learn about it!