With blended learning, this network aims to scale high-quality, affordable education
October 3, 2016 | by Jenny White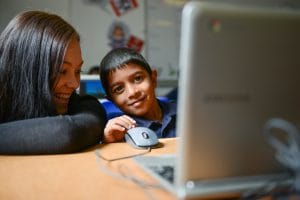 SPARK Schools is a leading transformer of the South African education landscape. Since this independent school network's flagship campus, SPARK Ferndale, opened in 2013, the network has grown to eight schools and counting. With each new school, SPARK Schools offer a combination of quality and affordability unparalleled by other public and private schools anywhere in the country. How is SPARK Schools at once lowering tuition costs and offering top-notch instruction for students? In short: blended learning.
After visiting innovative schools across the United States, co-founders Stacey Brewer and Ryan Harrison were inspired by Rocketship's model. They were ultimately joined back in Johannesburg by Bailey Thomson and Caitlin Burkholder-Travis, former Rocketship teachers who set out to adapt and implement the model for SPARK's unique local context. Thomson has remained at SPARK Schools since 2012 and now serves as Director of School Operations.
SPARK Schools' primary grades got started with a Rocketship-like Lab Rotation model in reception (kindergarten) through third grade. Students rotate through subject-specific classrooms with highly-qualified teachers and the Learning Lab, where they spend an hour each day learning on adaptive software. In the Learning Lab, Blended Learning Facilitators monitor students while they work on Chromebooks and pull small groups of students requiring remediation for intensive tutoring sessions. Leveraging technology and facilitators in the Lab allows SPARK Schools to lower its human capital costs, which in turns helps keep down students' fees to attend the private institution.
Search through 100+ more examples of Lab Rotation in the BLU directory
Another advantage to blended learning in terms of student learning, but also cost efficiency: an extended learning day. Whereas most South African school children finish academics around 1pm, SPARK scholars keep learning until 3 or 4pm.
"We have lengthened the school day for scholars and parents don't have to pay as much for 'aftercare'," Dee Moodley, the network's Director of Academics said, adding that after-school programming can often cost families as much as school over the academic year in a traditional model.
Overall, it costs families less to send their students to SPARK Schools than many government-run public schools, which typically do not control for teacher quality or offer a rigorous curriculum, according Moodley.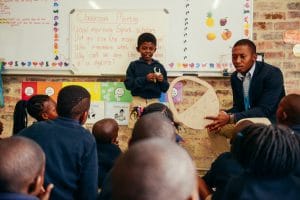 "Our mission is affordable schooling for all," Moodley said. "What we've found is that when there is more money available, the less innovative individuals become. So SPARK Schools is really good about saying, 'This is our budget. Show us what you can do with this.' We're trying to make sure we can reach as many families as possible."
Despite seeing successful student outcomes so far, the network isn't taking a back seat when it comes to innovation.
"We're always tweaking and updating at SPARK Schools. Nothing is ever set in stone," said Moodley.
Moodley said one major update has been to the model. For students in grades 4 through 7, SPARK Schools created a hybrid of Flex and Individual Rotation.
"Our scholars made us make that change," Moodley explained. "Our Grade 4 students in the Lab Rotation model looked bored and seemed so responsible for what they were doing. They needed to take their learning to the next phase."
The Flex model allows students to move through a personalized daily schedule where they encounter their subjects through multiple learning modalities. Students are placed in competency-based groups based on their achievement, according to Bailey Thomson.
Being the fastest-growing low-fee school network and first blended-learning schools in the country, SPARK Schools stands out in South Africa for many reasons. Yet perhaps the biggest distinction is data. As Thomson put it, "SPARK Schools is very data-obsessed." This is in a country that eliminated mandatory national assessments in 2015 and has few accountability measures for schools.
"[South African] schools are not happy to share results. This is not a data-driven culture," Moodley said. "But at SPARK Schools we have data days, when teachers show each other their students' results publicly in the staff room. With students, we let them know where they are so they can set their own goals. Students reflect on what they do. We hope to make all of our students critical thinkers and goal-setters, and that these cognitive processes will become part of their lives as adults."  
Thomson said SPARK Schools aims to open 20 schools by 2019 across South Africa. Yet their mission to improve educational opportunities for South African children isn't limited to the grounds of their own schools.
"We're never going to be so big that we rival the footprint of government schools," Thomson said. "But we can be thought leaders in the country's greater education landscape."