Tackling access to International Baccalaureate courses with blended learning
May 15, 2018 | by Katrina Bushko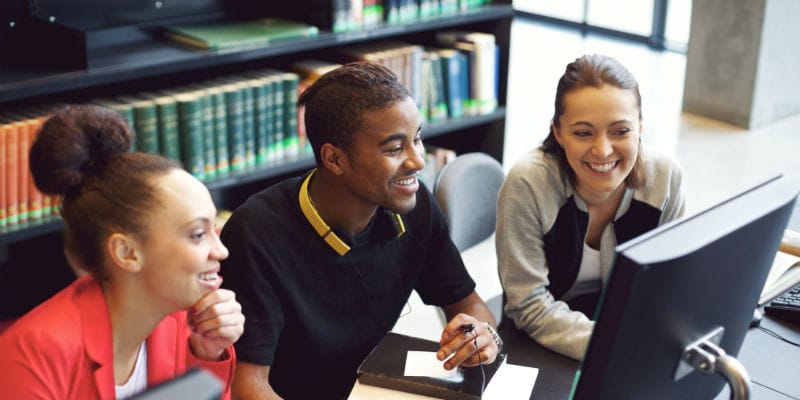 Last year, we published our first paper on blended learning featuring schools outside of the US – Blended Beyond Borders. Part of this research included the distribution of a survey that would capture data on technology tools used in Brazilian, Malaysian, and South African classrooms. Pamoja, an online provider for International Baccalaureate (IB) Diploma Programme courses, was one of the curriculum providers that respondents identified.
We were curious to learn more about how this centuries-old curriculum translated into online environments. Blended learning holds enormous potential to break the century-old factory model of education open by offering data on individual student performance, providing timely feedback, and opening up flexible pathways. While some worry that flexibility may come at the cost of rigor, leading IB schools are looking to IB courses as part of those customized learning pathways.
Pamoja's approach
Pamoja offers a variety of IB Diploma courses in two different ways: (1) completely online, taught by Pamoja teachers, and (2) content online meant to supplement a school's own teacher. Pamoja's 26 courses are housed on their online platform, where students can access class materials and assessments and–in the case of Pamoja Taught courses–interact with their teacher and their peers from around the world. The online learning platform also allows teachers and administrators to track student activity: even when a student is taking a Pamoja Taught course, a staff member at their school is designated to keep track of student progress and provide face-to-face support if needed.
Partnering with IB schools
As we've written about before, online courses can tackle course access challenges in schools and regions where options may be limited. Pamoja partners with IB Diploma programs around the world – when schools don't have someone to teach a specific course or elective, they can partner with course providers like Pamoja. Choice is an important component in online learning, allowing students to approach their studies in a more holistic, flexible way.
Halcyon London's model
Halcyon London International School, a small IB school in the UK, is one example of how schools use Pamoja Taught classes to expand their course offerings. With a student body of almost 160 in grades 6-12, there often isn't enough demand for elective courses to be offered on a full-time basis. So, when a student wants to take a course such as IB Film or IB Business Management, Halcyon can still give him or her the opportunity of taking it through a Pamoja Taught class. Students taking a Pamoja course work on personal devices in an open, shared learning space three times per week to do their coursework independently. In this learning space, they are surrounded by 10 to 12 of their peers who are working on different courses and are overseen by a coordinator who can help troubleshoot technological and academic issues. Halcyon's blended-learning program is also an example of an A La Carte model.
Dwight Global's model
Dwight Global Online School, which is "the campus in the cloud" for the Dwight School, founded in New York City in 1872, also partners with Pamoja. Students, including those pursuing their passions at a high level, such as elite athletes and pre-professional ballet dancers, can take online classes such as IB Economics and IB Psychology with a Pamoja teacher, or select from a large range of other Dwight IB and AP courses. Both enable students to connect in class with peers from across the globe. This A La Carte offering compliments Dwight Global's other blended efforts, which follow Enriched Virtual and Flipped Classroom models. Students can choose to attend their classes by either connecting to a virtual classroom twice per week, or by attending classes in-person on one of Dwight Global's campuses. Students review course concepts themselves online, and while in the classroom–physically or virtually–engage in an interactive lesson with their teacher and peers to solve concrete problems.