3 secrets to successful Station Rotations
March 21, 2019 | by Jenny White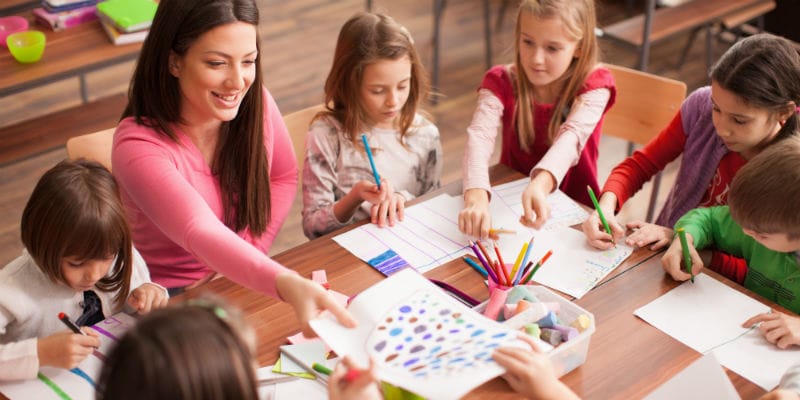 Station Rotation is one of the most popular blended-learning approaches. The model isn't new or unique to blended learning; teachers have been using learning activity "centers" in their classrooms for decades, particularly at the elementary level. What qualifies Station Rotation as a blended model is when at least one station involves student-led online learning. By definition, the model allows students to rotate through stations on a fixed schedule, typically established by the teacher.
Over the years in our blended-learning research, we've spoken to hundreds of educators implementing this model. In the Blended Learning Universe (BLU) directory, there are no fewer than 326 schools and districts who are using this model. This particular tack to blended instruction is typically credited with establishing a controlled routine in the classroom while allowing students some degree of control over the pace and path of their learning. In other words, Station Rotation allows teachers to personalize instruction at a much higher degree than the traditional classroom.
Based on the BLU data collected from schools, here are three ways to make the most of Station Rotation to foster students' success, as described by educators who've been mastering this model for years.
1. Spend small-group time strengthening relationships with students.
Jon Grega, principal at Mt. Gilead Middle School in Ohio, said his teachers have used Station Rotation to better get to know their learners. "We've seen that the small-group stations allow teachers to build stronger relationships with students, as well as better assess and meet the needs of individual learners." Like many educators using this model, Mt. Gilead teachers use the small-group direct instruction station to differentiate to a high degree. As an educator said at a past Blended and Personalized Learning Conference, "I never truly knew all my students before going blended."
At Mt. Gilead, Grega credits the steady rise in students' core academic growth to their teachers' blended-learning approach, which has earned the school Ohio's Momentum Award for three years in a row.
2. Use data to drive direct instruction, but consider the tools.
At Building 21 in Philadelphia, 9th and 10th grade ELA and math courses are called Workshops and run on a Station Rotation model. At the online station, students engage with adaptive intervention software at their demonstrated performance level. "We're leveraging computer-based assessments to identify areas for growth and to plan intervention work ," said school leader Ayris Colvin. "We are being proactive about closing gaps in students' understanding." Data from online programs inform student groupings and how the teacher will approach their direct instruction station for each group.
However, before you get your blended model up and running, consider upfront which edtech tools will best support teachers to track student data in one place. Using data effectively can be a cumbersome aspect of running a Station Rotation. As Da Vinci Connect in California shares on their profile, "Online content providers don't provide data in a singular source, so comparing student data from different sources and getting the important data out of those systems has been challenging for the school." Many schools choose to invest in developing their own customized system, rather than adopting off-the-shelf products, to achieve an integrated data platform.
3. Make the model your own.
The key here is realizing that the model isn't prescriptive. Often when first launching Station Rotation, it's a good idea to follow the "recipe" pretty closely until both teachers and students are confident with the new approach. But inevitably, educators recognize that there's room to manipulate the model to customize elements of the learning experience for students.
For example, Dave Swank, principal of Canyon Lake Elementary School in South Dakota, said that his school took the Station Rotation approach to blended because it was most familiar to teachers, but "we quickly realized that 'one size fits all' didn't match our philosophy, so we added a flex element to create more of a continuum of blended options." Specifically, some students are now able to spend additional time at certain stations based on their specific and identified needs on any given day. Additionally, in math, learners move through content at their own pace with support from a facilitator. In reading, a grade level structure is still in place, but small, flexible groups are clustered around similar abilities. Learners can move fluidly from level to level.
To take a deep look at how educators evolve their Station Rotation practice over time, check out our case study highlighting 5 teachers who made the model their own. Sometimes the best rewards for students come when teachers relinquish control of the model over to students, gradually giving them more ownership and agency in their learning.
Share your school's Station Rotation story in a BLU profile.
What's an Individual Rotation model? Read how it's different from Station Rotation here.